Randhir Singh took the initiative to set up Midland Langer Service Society to start feeding people in the midlands. The feed quickly expanded to 26 towns in the UK which currently provide 46,000 hot meals a week. MLSS was present in India throughout the Farmers Protest setting up Langar (free food) camps, educational camps, healthcare/medical camps and getting the youth and elders to bond together through sport. Sikhs make a minority in Walsall and bus drivers, or those in public facing roles who wore turbans previously were mocked and were subject to racial abuse. Today the same people would look at a turban wearing man and salute and praise how the Sikh community work together and help those less fortunate.
Sheila Singh, an award winning professional, a Mother of four, Managing Director and Principal of London School of Academics (LSA) established in 2010, specialising in bespoke Teacher Training. Sheila holds various prestigious awards: Gold Medal of Excellence for Teacher Training. Britain's Bravest Women, Barclays Trading Places Award, Women's Business of the year and Entrepreneurial of Excellence Award for Gender at the National Diversity Awards. Sheila was awarded the City and Guilds Lion Award 2018 (highly commended Centre of the year Globally). And most recently in 2021 was given the Lifetime achiever's award. She has worked in many international and government funded colleges teaching full time and part time over the last 25 years. Sheila has trained over 4000 teachers many of which who faced adversity through their disabilities and other barriers which hindered opportunities to study.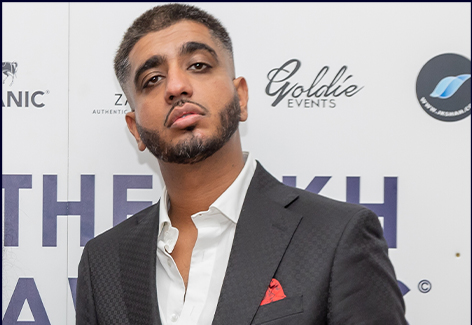 Pahuldip Singh Sandhu was born 5 February 1987, known by his stage name 'Steel Banglez', is a British record producer and musician of Indian Punjabi descent. He is currently signed to Warner Bros. Records. Best known for his production work with artists including Mist, MoStack, J Hus and Wiley, Steel Banglez achieved his first chart hit as a lead artist when his track "Bad" reached the top 30 on the UK Singles Chart in February 2018. His highest charting single on the UK Singles Chart is "Fashion Week" featuring British rappers AJ Tracey and MoStack which peaked at number 7. He was given the nickname Steel Banglez by a Jamaican friend in reference to the Kara (steel bracelets) that he wears as a Sikh.
N.P. Singh is the Managing Director and Chief Executive Officer of Sony Pictutres Network and an industry veteran who rose from the post of CFO of Sony Pictures Networks India (SPNI) in 1999 to CEO in 2014. With over 41 years of varied experience in the corporate world and in his current role, NP is focused on building leadership equity of Sony Pictures Networks India. Before joining SPNI in 1999, NP held several leadership positions across Finance and Operations in leading organizations including Modi Xerox and Spice Telecom. Presently, besides being the MD and CEO of Sony Pictures Networks India, NP is on the Board of Directors of the Indian Broadcasting and Digital Foundation and Director on multiple company boards. NP is an earnest Indophile with a special interest in Indian cuisine, music and movies.