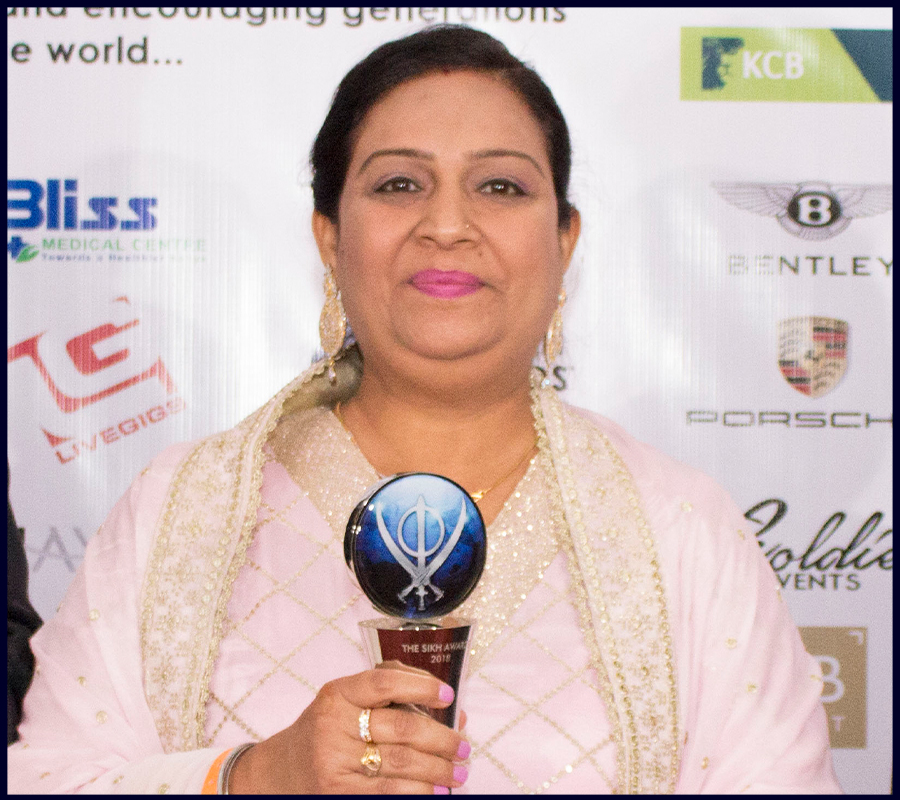 The Sikh Women Society is a charitable organisation that was founded in 1976 in Nairobi by women of Kenya's Sikh community in order to offer assistance to the less privileged members of the society and to the community at large. The organisation follows the teachings of the beloved Sikh Gurus as they engage in many social, religious and charitable activities that promote culture and religion amongst the children. Sikh Women's Society has been working tirelessly and with the utmost dedication, loyalty and commitment in serving those members of the community, that often struggle to obtain the most basic needs of getting proper food, education, shelter and medical care. Every year the Sikh Women's Society organises medical camps, Vaisakhi mela's, dental camps, hamper pack donations, Simran programmes and assist needy children with their school fees.
Harpreet Singh is a New York based designer, educator, TEDx speaker and inventor who is currently director of the Synthetic Ecosystems Lab and Assistant Professor at the Art, Media and Technology School at Parsons School of Design. He has designed an artificial intelligence driven terrarium that was recently launched by Google. Harpreet Singh graduated from (MIT), Cambridge, USA, with a Masters degree. He has lived in India, Austria, Singapore, Japan and USA, he has worked for global brands like Microsoft, Google and MIT Media Lab. Harpreet Singh was named as MIT Technology Review Under 35 Innovator in 2013, awarded National Social Innovation Honour by the IT Minister of India and received a letter of appreciation by the Government of Punjab for his charitable work. He devoted a part of his work to developing software for the blind and dexterity impaired. He also designed software for under-resourced schools in Punjab.
Satpal Singh Sabherwal, affectionately known as 'Satya Sabherwal' is a Sikh filmmaker who has produced more than 2400 films in his career of 40 years. He has produced 36 films for the world famous 'discovery channel' and 100's for Asian and international TV channels. In the 1970's he was responsible for filming and co-ordination of news during the 1971 India-Pakistan war, for Visnews Ltd. Satpal set up North India's first 16mm TV laboratory with special facilities for film Production and India's first news feature and programme agency. Throughout his career he has produced many films on Sikhism including a 60-minute documentary on Sri Harmandir Sahib (The Golden Temple), a documentary on the Nihang Singhs (Warrior Sikhs), various Gurudwara's in Dubai, Thailand and Delhi. Having completed films dealing with the social issues in Punjab he will release a documentary on the increasing number of farmers committing suicide in Punjab later this year.
Amardeep Singh is the Director and Co-Founder of specialist public relations and marketing agency, Media House. With a background in television and journalism, Amardeep was deputy editor for a respected men's lifestyle magazine before moving into PR. He now runs one of the most respected media agencies in the UK, with links globally, specialising in the South Asian sector clients and working to raise their share of voice in the mainstream. Media House's clients span the sectors of film and entertainment, music and live events, fashion and lifestyle, charity and award ceremonies. The agency works with some of the leading Bollywood studios and production houses such as Yash Raj Films, Reliance Entertainment, Fox Star, Sony Pictures, Salman Khan Films and Red Chillies Entertainment to name just a few. The go-to agency for South Asian sector clients looking to raise their profiles in the mainstream, Media House works with the biggest stars of Bollywood, Punjabi, regional Indian cinema and the Pakistani film industry.
Hindpal Singh is the former chairman of Energy Regulatory Commission and son of Late Makhan Singh, freedom fighter and the 'Forgotten Hero' of Kenya's pre-independence era. He has rendered a long and distinguished service to Kenya's Power Sector spanning for more than 50 years. He joined KPLC (now, Kenya Power) in 1961 as a Junior Engineer, and took an early retirement in 1987, while serving as Corporate Planning Manager. Since leaving KPLC, he has been General Manager and CEO of a Utility in the West Indies; Technical Adviser to Kenya's Ministry of Energy; and finally was Chairman of Energy Regulatory Commission of Kenya from 2007-11. Currently, he is involved in the development of various Renewable Energy projects, mainly in an advisory capacity. Over the past few years, he has made several presentations in international conferences like EAPIC and IRENA and has published several articles in the local press including Kenya Engineer and the Journal of Institution of Engineers of Kenya.