Kulwant Singh is the Global Ambassador of World Cancer Care a charity that has raised the awareness of cancer amongst the Punjabi community around the world and in particular Punjab, the cancer capital of the world. He works tirelessly and without any expenditure lecturing on various platforms including Gurudwaras on the cancers in our society including daaj, feticide, drugs etc. Regular camps are now held in the state of Punjab on a daily basis and sponsored by NRIs where free counseling and checks up for breast cancer, cervix cancer, prostrate cancer, blood pressure and sugar tests are done for the poor, free of cost. World Cancer Care now organise a free medical camp every month outside the Golden Temple, Amritsar. Kulwant Singh has recently been recognised for his work globally and received the Sant Puran Singh Award.
Raghbir Singh is a world known author of the first of its own kind 'Encyclopedia of Sikhism' on multimedia technology released by the Honorable Prime Minister in the Parliament House of Canada. He is also a luminary producer/director of the original 'Multimedia Sikh Museum' set up at Khadur Sahib, India utilising the latest robotic technology. So far he has set up six Multimedia Sikh Museums in the world. He is a classic writer of many books on Sikhism which he donated to charitable trusts. Raghbir Singh is also a reputed drug therapist, committed community activist, environmentalist, cultural educator, submissive philanthropist and mentor. He has been instrumental in opening the first Punjabi speaking 'Community Police Station' in British Columbia, Canada and putting up Punjabi Street signs in Surrey's Delta Punjabi Bazaar.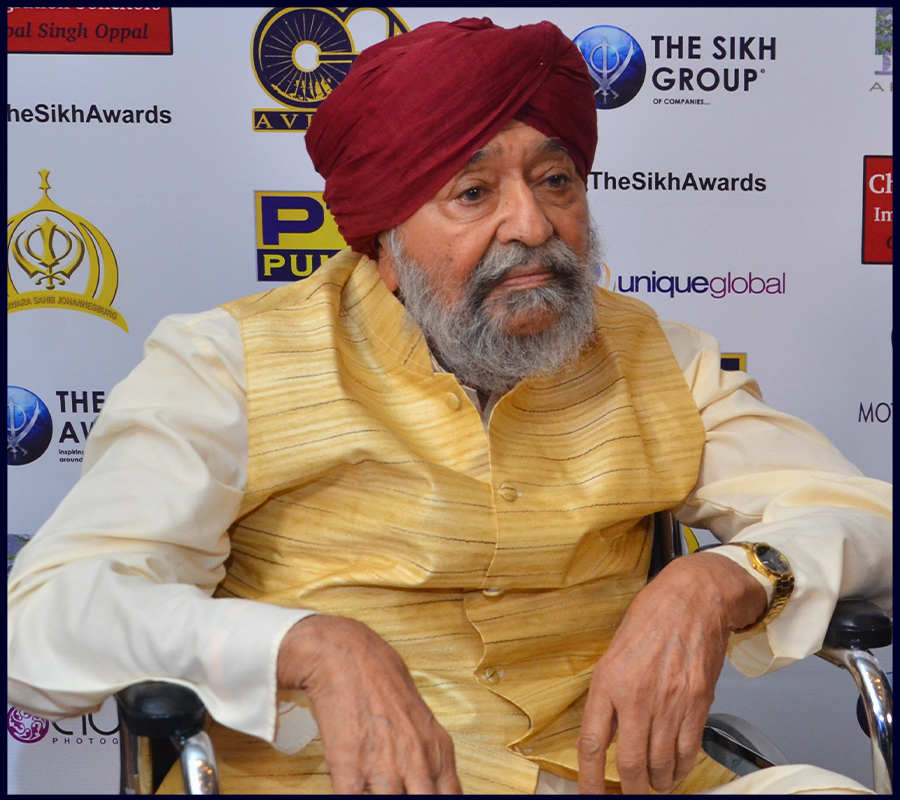 Soulful and legendary music director Mohinder Singh is among the last remaining maestros who gave us unforgettable melodies through Bollywood movies in the 1950's, 60's and 70's. His first film was 'Neeli' (1950). He received the Presidential Annual Award for his contribution to music for the super-hit Punjabi movie 'Nanak Naam Jahaz Hai' in 1970, which featured the voices of Bhai Samund Singh, Mohammad Rafi and Asha Bhonsale. Mohinder Singh composed music for 68 movies. His last Hindi film was 'Mehlon Ke Khwaab' produced by Madhubala in 1967. He left India for the USA in 1982 and the last film featuring his music was 'Maula Jatt', with Dara Singh in the lead role. He also composed the music for popular film such as Paapi, Shahzada, Naata, Shireen Farhad, Khoobsurat Dhokha, Do Dost, Picnic, Zameen ke taare, Reporter Raju, Karwan, Shrimatiji, Bekhabar, Jai Bhavani, Baanke Sanwaria.
Bal Singh Samra is a senior media executive with twenty years of experience and is now operating at the highest level in his field. He holds a number of roles in executive and non-executive capacities. Bal took up his most recent role as Managing Director of BBC Television in July 2014, in addition to his role as Commercial Director for the BBC group. Across the two roles, he leads around 900 staff and is responsible for managing a budget of around £1billion. He is also Chairman of Freesat; a Trustee of the National Film and Television School, furthering the development of the next generation of leading Directors and writers in the industry; he is on the Comic Relief Investment Committee and a Trustee of the Ormiston Academies Trust which sponsors 30 academy schools in the most disadvantaged areas, working to improve facilities and aiming to ensure all pupils achieve the best education. He is a supporter of the Gurkha Welfare Trust and supports the education of two children at the Central Khalsa Orphanage in Amritsar.